8 tags
Alex Pavlovic's review
"I could see the seam marks on his Adam's apple. He's a tough son of a gun. If I was hit in the throat while I was catching, I'd probably be lying on the trainer's table," Vogelsong, after his bounced pitch hit Posey in the throat.   "I was pretty geeked up and I saw (Kemp's reaction) and it fired me up even more. It was a great moment," George Kontos after a huge strikeout of Matt Kemp. ...
7 tags
Best guesses
Angel Pagan - 3 years, 36 million, leaves the Giants Jeremy Affeldt - 2 years, 13 million, stays with the Giants Marco Scutaro - 3 years, 18.5 million, stays with the Giants Melky Cabrera - Hell no.  Hunter Pence - 1 year, 14 million arbitration deal OR 3 years, 35 million extension with the Giants …which means a current opening day outfield of: Francisco Peguero, Gregor Blanco and...
11 tags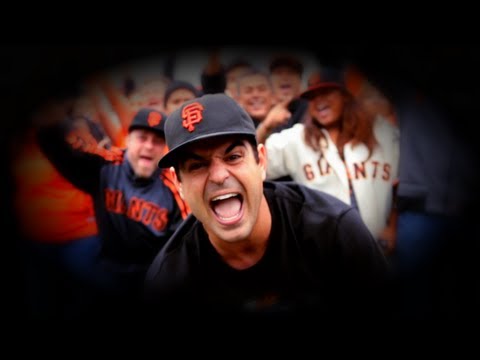 6 tags
Positively Jeter-ian →
"Fast forward to year three. Posey goes off, winning the batting title, (likely) MVP and the World Series. He won the Hank Aaron award. And will win the Silver Slugger, for top-hitting catcher in the National League. Jeter wins the Series with the Yankees, but he's not the only straw that stirs the Yankees' drink, if we may quote Reggie. Buster's the drink, the straw and...
7 tags
A ring handed on a plate →
"What a perfect emblem for these Giants. Even this auslander could see their loose floorboards and foundation cracks, and not the talent and cohesion that would hoist them to a World Series championship one freezing night later." — Hank Schulman
8 tags
9 tags
Credit
There's a long line of pundits, analysts, baseball men, announcers, reporters and baseball writers carving out a piece of a daily column to announce today that they were wrong. Again. For the second time in three years, the Giants beat the odds as huge underdogs. But whether or not the credit and attention is going to come our way, Giants fans realize, the team simply played better at the...
7 tags
"At a time like this, people like to see nutshells, they like to see..."
– Jeff Sullivan, FanGraphs
14 tags
It Rings True!
I would never have believed myself to be so lucky as to witness two championships in my lifetime. The story lines running through this World Series are just as, if not even more compelling then the 2010 World Series. Take a look at all that went in to this season and the trip to a second ring in three years just becomes that much more improbable. But as Sherlock Holmes has always said, once you...
6 tags
7 tags
Some quotes on #MVPosey
I am one of 32 writers who cover National League teams who has an MVP vote. I can't say who I'll vote for because I honestly don't know. I really do like to wait until the end of the regular season and do some good, objective research. However, I will say this. Writers from other cities call one another and ask for reasons that a particular player should win an award. If I get any calls like...
5 tags
So Soriano...
So Alfonso Soriano has been quite clear that he's never, ever, ever going to play for the San Francisco Giants. He's more or less set to veto anything that comes across with the words San Francisco on it. Guess he doesn't realize two really obvious things. 1. He hits .217 against the San Francisco Giants pitching staff. This is headlined by a 7/50 line against Barry...
5 tags
"They got a shot! They have a shot. And they have to feel like they have a..."
– Duane Kuiper
7 tags
"I wish that our players coulda heard the three or four innings (of the Dodgers..."
– Duane Kuiper
6 tags
Keeping it simple
Even if the Giants pull off a few additional moves prior to the coming deadline, the team could make the most of what they have with three simple fundamentals: Get 'em on, get 'em over, get 'em in The Giants have been burned quite a few times with runners in scoring position, especially in this series. Just today, Posey and Pagan led off innings with doubles. Manufacturing runs...
7 tags
Making a Move
With the trade deadline approaching, the Giants have been linked to numerous names in rumors the past few weeks. The team has holes, undoubtedly. To fill the right-handed power bat off the bench, beat writers have suggested Ty Wiggington as a possibility. To fill in a leaking and running on fumes bullpen, ex-Dodger Jonathan Broxton has been rumored, as well as ex-Angels-Mets-Brewers closer...
Funniest statement in baseball
Referring to recently DFA'ed pitcher Jonathan Sanchez, Yahoo! writer David Brown described the situation… The Royals didn't see this coming, of course, nor did a lot of people around baseball. Just three seasons ago, Sanchez threw a no-hitter for the Giants. And in 2010, he struck out 11 in his first playoff appearance and tagged along as San Francisco won its first World...
8 tags
#Representin'
To Sandy Alderson bitching about Wright getting outvoted for his starting job to Panda. To all the Mets' fans who are up in arms about Cain taking Dickey's starting job. #FUCKYOU
9 tags
Flemming for Life
I love my Giants announcers!
6 tags
8 tags
"It's gonna be an easy score for Posey. And here comes Sandoval and..."
– Mike Krukow
8 tags
"Yeah, I told him before the game today I'm trying to keep up with him. He's not..."
– Ryan Vogelsong on Matt Cain; neither have lost since May 3
9 tags
"…On the ground, Arias… From deep third… GOT 'EM! And..."
– Duane Kuiper, a legend in his own right. 
Duane Kuiper on Comcast Sportsnet Bay Area and...
8 tags
So perfect.
Eat shit, New York Times. #eastcoastbias #fuckyeah #Cainer
6 tags
9 tags
Throwing a wrench at Timmy
Tim Lincecum is all fucked up. No delicate way around it. The previous post laid out how far from his standard he is pitching and his record even with a moderate 5.75 average run support. (All four other starters on the team have lower average and better records/ERA/fewer problems.) The only thing that seems to be written about Lincecum is his average dip in velocity. Clearly that's a...
9 tags
Stats to dwell on...
Among qualified starters… Matt Cain has the third-lowest WHIP in the league. Tim Lincecum has the fifth-highest WHIP.  Ryan Vogelsong has the third-lowest ERA. Tim Lincecum has the fourth-highest ERA. Madison Bumgarner and Matt Cain are in the top 20 in BB/9 rate. Tim Lincecum has the fifth-highest BB/9. 
2 tags
"I'm gonna pick Vogelsong, not for his pitching, but his hitting. He was..."
– Duane Kuiper on player of the game, Vogelsong
6 tags
"He was a strike away from a hat trick. He was down oh-two to this Ross character..."
– Duane Kuiper on Nate Schierholtz
8 tags
Anyone want J. Sanchez back?
J. Sanchez: 1-2, 25.1 IP, 6.75 ERA, 5.52 FIP, 7.82 BB/9; fastball down to 89.2 MPH M. Cabrera: .356/.404/.506, 64 hits, on pace for 241 hits, 18 RBI, 6 SBs
6 tags
Bye Bye Brandons
After tonight's game, both Brandons on the team have pretty much been rendered useless. Crawford's ineptitude with the bat was well-documented, but add on his defensive struggles and he is worse than replacement level. Now comes the revelation that Belt refuses to adjust his stance to become the ball-driving, run-producing bat the Giants want him to become. He won't straighten...
5 tags
Brandon Crawford sucks
He just tried to bunt with two outs and runners on the corner. Let me repeat, he just tried to bunt with runners on the corner. And TWO FUCKING OUTS. BUNT. WHAT?! I don't think there is anything the entire bandwagoning, moron-filled, idiot-infested, fan-girl populated, dipshit of a tumblr community can say to prove me wrong. He needs to be shipped away to single A ball or waived....
13 tags
9.25 million dollars
That's how much Brian Sabean spent this past off-season to keep Affeldt and Lopez in our bullpen. Together, they've pitched only 18 and 1/3 innings this season almost a month and a half into the season. Affeldt hasn't pitched since late April. Their ERAs and value aren't that impressive, when you consider that Affeldt's ERA is above 4.00 and though Lopez has an ERA of...
8 tags
FUCK BRANDON CRAWFORD
0/2, 2 Ks and two errors, one costing us a run. Sick of his inability to hit the ball. Sick of his inability to play the shortstop position, the thing he's supposed to be "up here" for… GO AWAY! YOU SUCK NUTS! #wewantomar
6 tags
Are you fucking kidding me?
http://sports.yahoo.com/news/giants-put-huff-dl-anxiety-221136604—mlb.html;_ylt=AkdrFqkFSHBiOsUG4rzwfQ.FCLcF Aubrey Huff has been put on the 15-Day DL with anxiety disorder issues. If Brandon Belt gets playing time because of this, it's a load of horseshit. This isn't how we "make room" for a prospect, especially if this DL trip was a crock-pot, upper-management...
7 tags
Just some banter
Jon Miller: Strike three called. And I do have a confirmation that was the call on the field. That is, indeed, what happened...
Dave Flemming: ...After having seen this umpiring crew over the weekend...they're not big into signs, or signals, or communication, or letting anyone know what's going on in the game...
6 tags
"Today is Brandon Belt's birthday. I went to six bakeries in NYC looking..."
– Andrew Baggerly telling it like it is…
9 tags
Soiled underwear
Giants fans worldwide all clearly understand Brian Wilson's adeptness at making them sweat through each and every save chance or appearance. ESPN recently published an article citing the relative uselessness of the "save" statistic as it is context-based and highly situational. In essence, they argued the save miscalculates a reliever's worth and blown saves overstate a...
17 tags
Giants' franchise outlook
FanGraphs is currently in the process of putting out their organizational rankings for 2012. The Giants' outlook was posted here. This year, they held serve and repeated their ranking from 2011 at 12 out of 30 teams. The web site grades the teams on four categories: 2012 outlook, 2013+ outlook, financial resources and general management.  In terms of this year's outlook, they are...
9 tags
"I'm as ready as I'll ever be….Don't be a hero. If..."
– Aubrey Huff on playing left field
11 tags
Yes, We Cain
This afternoon, the San Francisco Giants re-upped with Matt Cain for an additional five years and 112.5 million dollars. Tacked on to his current one-year deal, this contract extension, he will earn 127.5 million dollars over the next six years in San Francisco.  Clearly, the most important part of that last sentence is, "…in San Francisco." Many Giants' fans are comforted...
6 tags
"If I had to be part of any era, it would have been the '70s with all those..."
– Tim Lincecum
8 tags
"He's the best hitter I've ever seen, and there isn't a close..."
– AJ Pierznski
6 tags
2006 Draft decision
In 2006, the Rockies were faced with a draft day decision at pick #3: Evan Longoria or Ryan Reynolds. If the Rockies had taken Longoria, the Rays would have taken Lincecum and the Giants would be left with the likes of Max Scherzer, Kasey Kiker, Tyler Colvin or Travis Snider. 
9 tags
Venezualen Ozzie
I wrote this several years ago. Just found it going through my old documents, cleaning out my laptop. Enjoy! I watch the game of baseball to be thrilled. I take each play as part of the entire experience and the sport never lets me down. Excitement rages through each and every game. Every second of the game can produce something magical; each player can turn ordinary into extraordinary. One of...
14 tags
"So congratulations to Arte Moreno and the Los Angeles Angels of Anaheim. They..."
– Ray Ratto
9 tags
Pablo Pandahands
Have we filed a crime report, yet? Sandoval got straight up robbed this year when he didn't get a Gold Glove. His health improvement not only led to a revival in his hitting, but with spry legs and a leave-it-on-the-field mentality, he made playing third base, beautiful and efficient.  In three of the most important defensive metrics in baseball, Sandoval was 1st, 1st and oh, you guessed...
6 tags
More on Jonathan Sanchez →
Wow, and I thought I'd be the harsh one on Sanchez…
7 tags
Kansas City Mirage
"His hit rates are very low, his strikeout rates are very high, his walks aren't something we're overly excited about, but at the same time he's very young. He's somebody our scouts feel is a breakout candidate moving forward into 2012." — Royals' GM Good luck Kansas City! We've said that every year for the past five years.